Art activities are an important part of an elementary school classroom. Painting exercises a child's brain. Creative activities like painting use a different part of the brain than reading and or math. The right side of the brain is our creative half and responsible for visual skills and understanding what we see through our eyes (which are still developing at the preschool age).
Creative play and painting activities help exercise your child's "right" brain, leading to an overall healthy brain development.
ESGI and ThinkFives asked thousands of teachers what their favorite art activities are. Here is their list.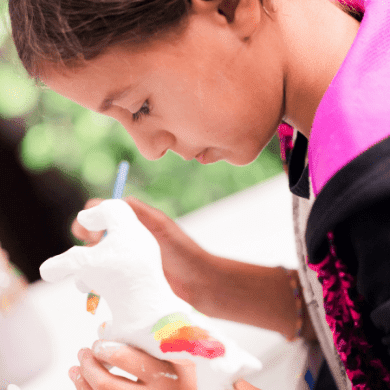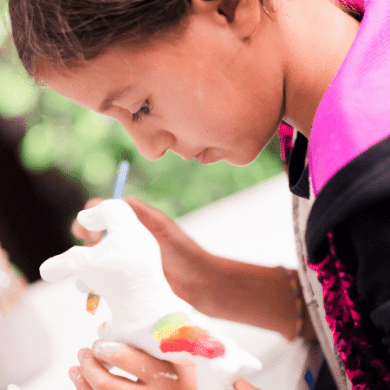 Paper Mache
Paper mâché (paper mash-ay) is an easily made, hard material that can be used to cover various surfaces. It is often used in art classrooms to make sculptures, fruit bowls, puppets, dolls and much more. The surface is easy to paint, allowing students to add patterns, bright colors, and interesting designs to the finished product.
Students love working with paper mache. Here is a paper mache activity suggested by a ThinkFives teacher.
Materials:
Flour, water, shallow pan, paper strips, plastic bowl, paints
Instructions:
Mix up the Paper Mache Paste by adding equal parts of flour and water.
Put paper mache paste in a shallow pan.
One at a time, drag and dip a paper strip in the paper mache paste completely covering the paper strip with the concoction.
While the strip is still over the shallow pan, gently run fingers over the paper strip to remove excess paste with the goal of it not being "drippy".
Place the paper strip over an upside-down bowl covering it as smoothly as possible. Keep adding strips until the entire outer surface of the bowl is covered.
Make at least 5 layers of paper mache strips over the surface.
Let the bowl dry overnight.
Gently squeeze the plastic bowl allowing the paper mache shell to dislodge.
Paint and decorate.
Source
https://www.wikihow.com/Create-Papier-M%C3%A2ch%C3%A9
https://kidsactivitiesblog.com/47444/paper-mache-for-preschoolers/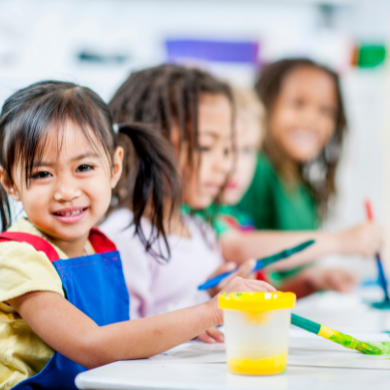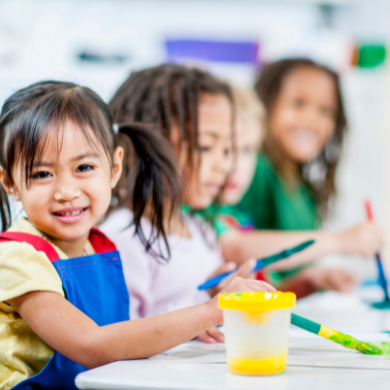 Open-Ended Art Activities
Is your goal to encourage children's creativity through developmentally appropriate art experiences? An option recommended by teachers is open-ended art. What is it?
Characteristics of process-focused art experiences:
There are no step-by-step instructions
There is no sample for children to follow
There is no right or wrong way to explore and create
The art is focused on the experience and on exploration of techniques, tools, and materials
The art is unique and original
The experience is relaxing or calming
The art is entirely the children's own
The art experience is a child's choice
Ideas are not readily available online
Some sample activities offered in classroom:
Easel painting with a variety of paints and paintbrushes (with no directions)
Watercolor painting
Exploring and creating with clay
Finger painting
Painting with unusual tools like toothbrushes, paint rollers, potato mashers
Printing and stamping (stamps purchased or made with sponges)
Creating spin art using a record player and paint, squirt bottles, paintbrushes, or markers
Stringing beads independently and creatively
Weaving cloth, yarn, or paper
Drawing with pencils, art pens, various sizes of markers, or crayons
Using homemade doughs
Making collages using tissue paper, various sizes of paper, glue, paste, glue sticks, scissors, and recycled materials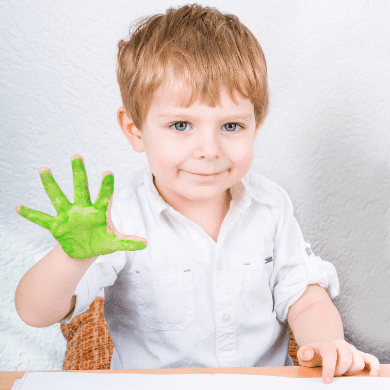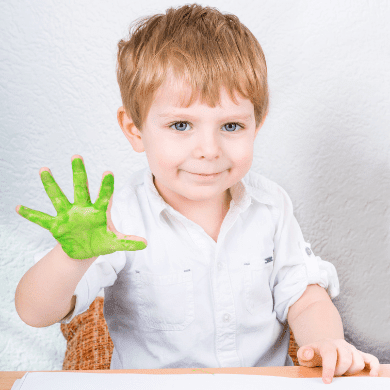 Hand Print
Students love to print their hands, their feet or almost anything you will let them. Here are a few recommended activities.
Instructions for Toddler Handprint Painting:
Drop a blob of paint on one side of the paper.
Encourage your toddler to place one hand in the paint and swipe around to coat the palm and fingers, making a large round paint 'pool'.
Show your toddler how to press one hand firmly on the blank section of the paper, next to the paint 'pool'.
Continue making handprints until you run out of paint, then go back to the paint pool and reload!
https://www.simpleeverydaymom.com/handprint-art-crafts-for-kids/
Holiday Hand Print
This handprint reindeer craft made from paper is one of the most popular Christmas crafts of all time! It's no wonder since it's so cute and it comes with a free printable template so you can easily recreate it with your kids. You'll love seeing your child's handprint preserved in such a cute craft!
This handprint Santa craft is another reader favorite! It too uses paper and a free printable template to turn your child's handprints into Santa Claus' snowy white beard.
Source
https://www.thesprucecrafts.com/handprint-crafts-for-kids-4125908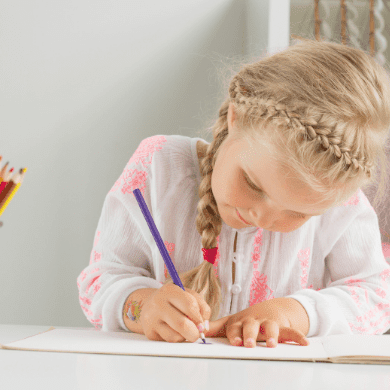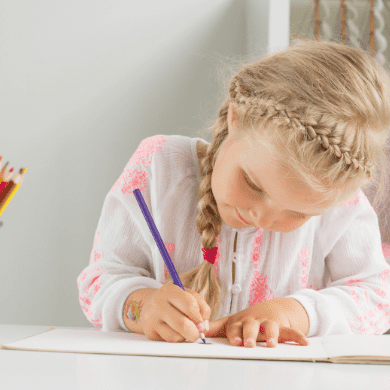 Directed Drawing
Directed Drawing is an important part of the art classroom. The skills students learn in directed drawing and translate to their own drawings.
As students excel at directed drawing, teachers notice that student confidence levels grow. After they've been led through a few directed drawings, they can begin to use what they've learned to create artwork of their own. Teachers are happy when they see students use a skill or drawing trick on their own.
Directed drawings provide children with a ton of practice in following directions and paying attention to detail. Children need to listen and follow instructions closely while paying close attention to details or they might miss a step.
Not only do they produce great results, but students feel confident and identify themselves as ARTISTS. They are producing artwork for their classroom that is unique and beautiful, not some coloring page or cookie-cutter craft.
A Resource for You: How To Draw For Kids
Here is where you'll find how to draw lessons! It's a massive drawing library! You'll find lessons for young and old kids. You'll find everything from how to draw cupcakes to how to draw sharks. So, what are you waiting for? Grab a marker and follow along.
Source
https://www.artforkidshub.com/how-to-draw/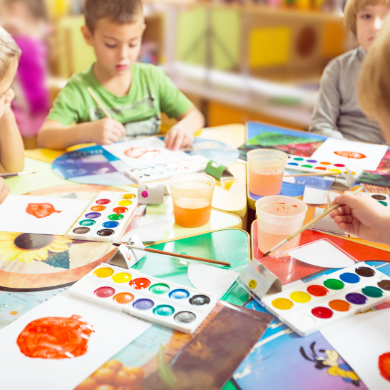 Watercolor Painting
Coming in at #1 on our list is a favorite of most teachers and students, watercolor painting. Through painting, a child learns how to express their own feelings by transforming their own ideas and feelings onto paper.
Painting also builds self esteem. By providing open-ended painting activities children discover there is no right or wrong way to paint. The emphasis is on the process so every child feels successful no matter their skill level or developmental stage.
Here are a couple of activities you can do with your students if you're doing watercolor painting.
Wet on wet technique:
First, mix your paint in your palette. Remember to test your colors on scrap paper to make sure they are dark enough.
Next, tape your paper down to a wooden board using painters tape. You can use scrap wood (some hardware stores will give you scraps for free) or some art supply stores carry them. This helps to keep the paper from sliding all over when painting (which can be frustrating for kids), creates a nice border around the finished painting and also helps the paper dry flat.
Using a flat brush, paint your entire paper with clean water. You don't want the paper to be soaking if you find it too wet, you can dab it with some paper towels
Start to paint your paper, using one color at a time. Kids can experiment with painting in different ways, they can dab the paint on or paint in long brushstrokes across their paper like in the example above.
Sticker resistant watercolor technique for kids:
Get your stickers, paper, and paints ready. Teachers often use simple shapes for this technique. Remember, it will just be the silhouette shape that's on your painting so you don't want anything complicated.
Place your stickers on your paper, pressing down firmly.
Paint your paper with your watercolors, using a wet on wet technique with 3 colors for our example.
Let your painting dry completely. Take your stickers off to reveal your amazing design underneath!
Sources
https://www.projectswithkids.com/watercolor-techniques-for-kids/
https://innovationkidslab.com/preschool-paint/
What are your favorite art activities?