Who doesn't love a delicious scoop of ice cream on a hot summer day? Ice cream is a timeless dessert that is enjoyed by people of all ages, all around the world. From the classic flavors that make us sigh with delight to the quirky toppings that leave us scratching our heads, we're exploring it all in this article on the top 5 fun facts about ice cream.
Did you ever wonder which flavor reigns supreme in the ice cream kingdom? How about the ice cream industry heavyweights churning out these divine desserts? Whether you're a die-hard vanilla enthusiast or a daring rocky road adventurer, there are some fun ice cream facts to share with your students when they return from summer vacation.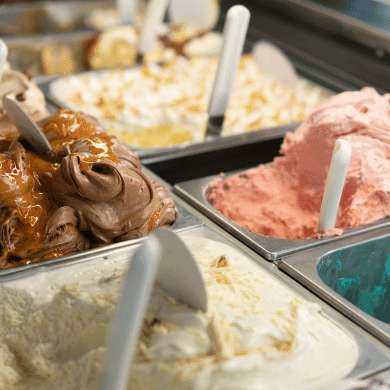 Top Ice Cream Flavors in the US
According to various surveys and reports, here are the top ice cream flavors in the United States:
Vanilla
Chocolate
Cookies and cream
Mint chocolate chip
Chocolate chip cookie dough
Butter pecan
Rocky road
Strawberry
Neapolitan
Coffee
Sorbet is a frozen dessert that is similar to ice cream but is typically dairy-free and made with fruit juice or puree. Here are the top sorbet flavors in the United States:
Raspberry – Raspberry sorbet is a classic flavor that is tart and refreshing.
Lemon – Lemon sorbet is a bright and citrusy flavor that is perfect for hot summer days.
Mango – Mango sorbet is a sweet and tropical flavor that is popular in many parts of the world.
Strawberry – Strawberry sorbet is a sweet and fruity flavor that is often made with fresh strawberries.
Pineapple – Pineapple sorbet is a sweet and tangy flavor that is popular in many tropical regions.
Blood Orange – Blood orange sorbet is a unique and flavorful option that is tart and slightly sweet.
Grapefruit – Grapefruit sorbet is a tangy and refreshing flavor that is perfect for those who love citrus.
Peach – Peach sorbet is a sweet and juicy flavor that is perfect for summer.
Watermelon – Watermelon sorbet is a refreshing and sweet flavor that is perfect for hot summer days.
Coconut – Coconut sorbet is a creamy and tropical flavor.
Ice cream makers have also come up with some unusual and creative flavors over the years. While some of these flavors may seem strange, they can be surprisingly delicious and adventurous to try! Would you?
Bacon
Lobster
Garlic
Wasabi
Olive oil
Avocado
Sweet corn
Black licorice
Curry
Balsamic vinegar
Goat cheese
Blue cheese
Beer
Sriracha hot sauce
Cucumber
Basil
Red bean
Charcoal
Tomato
Green tea


Desserts
Many delicious and complicated desserts can be made with ice cream. How many have you tried?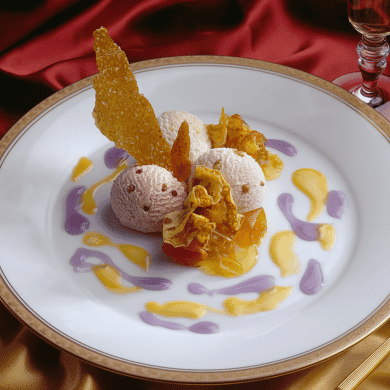 Ice Cream Sandwiches – Homemade ice cream sandwiches can be made with your favorite cookie or cake recipe and your choice of ice cream flavor. They can be rolled in nuts, sprinkles, or other toppings to add extra flavor and texture.
Banana Split – A classic dessert that consists of a split banana topped with scoops of ice cream, hot fudge, whipped cream, and other toppings such as nuts, sprinkles, and cherries. The dessert can be served in a dish or as a sundae with a variety of toppings and sauces.
Baked Alaska – This is a classic dessert that consists of a cake base topped with a layer of ice cream and then covered in a meringue or other whipped egg mixture. The dessert is then quickly baked or broiled in the oven to create a golden brown crust on the outside while keeping the ice cream frozen on the inside.
Ice Cream Cake – An ice cream cake typically consists of layers of ice cream and cake, often with additional toppings and sauces. The cake can be made with a variety of flavors and combinations to suit individual tastes.
Affogato – This is an Italian dessert that consists of a scoop of ice cream or gelato topped with a shot of hot espresso. The combination of hot and cold makes for a delicious and refreshing dessert.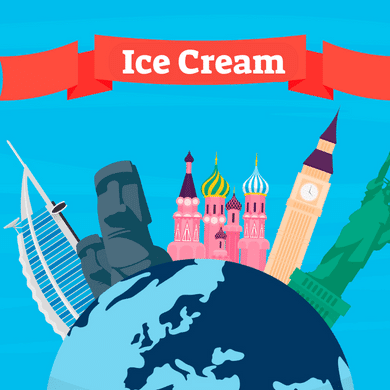 Top 5 Countries that Eat the Most Ice Cream
According to the International Dairy Foods Association, in 2020 the United States produced 1.3 billion gallons of ice cream and related frozen desserts. The average American consumes more than 23 pounds of ice cream per year. And while that's a lot, the US is not in the top spot.
New Zealand – According to a report by the International Dairy Foods Association, New Zealand has the highest per capita consumption of ice cream in the world, with an average of 7.5 liters (nearly 8 quarts) of ice cream consumed per person per year.
Australia – The average Australian consumes around 5 liters (over 5 quarts) of ice cream per year, making it the second-highest consumer of ice cream per capita.
United States – The average American consumes around 23 pounds of ice cream per year, which translates to roughly 4 liters (just over 4 quarts) of ice cream consumed per person per year.
Finland – According to the World Economic Forum, Finland is the fourth highest consumer of ice cream per capita, with an average of 3.8 liters (nearly 4 quarts) of ice cream consumed per person per year.
Sweden – The average Swede consumes around 3.4 liters (just over 3.5 quarts) of ice cream per year, making it the fifth-highest consumer of ice cream per capita.


Ice Cream in Songs and Movies
Here are a few examples of songs and movies where ice cream plays a part: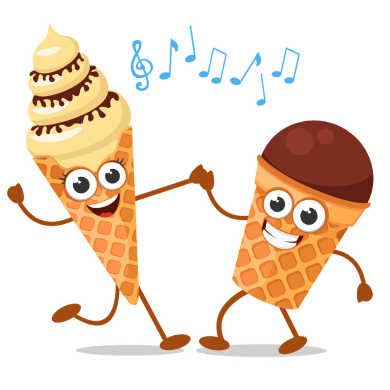 Songs:
"I Scream, You Scream, We All Scream for Ice Cream" – a popular song from the 1920s that has since become a children's nursery rhyme.
"Ice Cream" by BLACKPINK and Selena Gomez – This is a playful and catchy pop song released in 2020 by South Korean girl band BLACKPINK and American singer Selena Gomez.
"Ice Cream Man" by Van Halen – This is a classic rock song from Van Halen's debut album in 1978. It's a cover of a blues song originally written and performed by John Brim.
"Ice Cream" by Sarah McLachlan – This is a sweet love song by Sarah McLachlan from her 1993 album "Fumbling Towards Ecstasy". The metaphor of ice cream is used to convey the sweetness of love.
"Ice Cream Freeze (Let's Chill)" by Hannah Montana – This song was released by the Disney Channel character Hannah Montana, portrayed by Miley Cyrus, as part of the TV show's soundtrack.
Movies:
50 First Dates (2004) – In this romantic comedy, the character played by Adam Sandler tries to woo a woman with amnesia, played by Drew Barrymore, by bringing her ice cream every day.
It's a Wonderful Life (1946) – In this classic Christmas movie, George Bailey takes his love interest Mary on a date to get ice cream at the local drugstore.
Pleasantville (1998) – In this movie, the character played by Reese Witherspoon introduces the conservative town of Pleasantville to the joys of rock and roll, sex, and colorful ice cream.
Grease (1978) – In this musical, the characters sing about their summer love affair in the song "Summer Nights," which includes the line "we made out under the dock, we stayed up all night, just talking and eating ice cream."
Forrest Gump (1994) – As Forrest Gump reminisces on his time in the Army, Forrest (Tom Hanks) lays on a hospital bed next to Lieutenant Dan (Gary Sinise) and offers him one of his ice cream cones. Gump famously says, "the only good thing about being wounded in the buttocks is the ice cream, they gave me all the ice cream I could eat."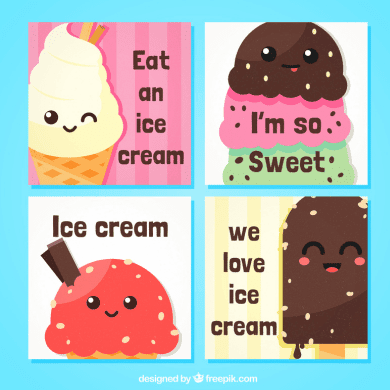 Fun Facts About Ice Cream
Ancient Origins: The first version of ice cream is credited to the Chinese, where a simple dish made from rice and milk was packed in the snow to harden. It wasn't until the 18th century that ice cream began to resemble the treat we know and love today, with recipes appearing in French and English cookbooks.
US Innovators: From the creative duo behind Ben & Jerry's, which boasts an impressive revenue of approximately $600 million, to Blue Bell Creameries with their dedication to quality ingredients, generating revenue of around $800 million, the US is home to some of the world's top ice cream companies. Let's not forget Baskin-Robbins, Häagen-Dazs, Talenti Gelato, Graeter's Ice Cream, Jeni's Splendid Ice Creams, and Tillamook!
Ice Cream Sales: Did you know that Baskin-Robbins reported system-wide sales of approximately $1.3 billion in 2019? Or that Tillamook had a revenue of around $864 million? Ice cream is not only delicious but a significant contributor to the economy.
Toppings Galore: Ice cream toppings range from traditional favorites like hot fudge and caramel sauce to fun additions such as gummy bears and Oreo crumbles. Of course, classics like whipped cream and sprinkles always make the list too!
Around the World: You can find delicious treats in Italy at Giolitti or Gelateria di Piazza, in France at Berthillon, in Ireland at Murphys Ice Cream, in Argentina at Heladeria Cadore, and more! Even within the US, places like Jeni's Splendid Ice Creams, Serendipity 3, Salt & Straw, Morgenstern's Finest Ice Cream, and RakiRaki are creating unique flavors and unforgettable experiences.
What is your favorite ice cream?