Whether it be 1952 or a fall night in 2022, there's nothing quite like a board game to bring family or friends together. Families have been playing board games for decades.
Have board games evolved over the years? Surprisingly not. ThinkFives asked our teachers what board games they would recommend for families and the newest game they listed was created in 1965. We're sure a number of fun games have been created since then, but it's really telling that the classics still have a stronghold on our American families.
So get ready for a little nostalgia, as we share the Top 5 teacher-recommended board games to play with your family.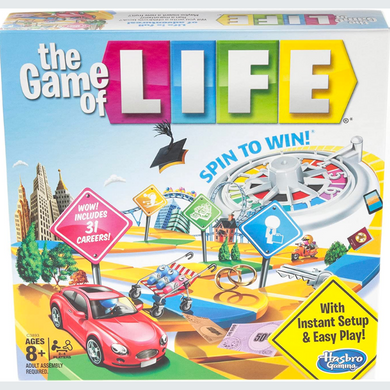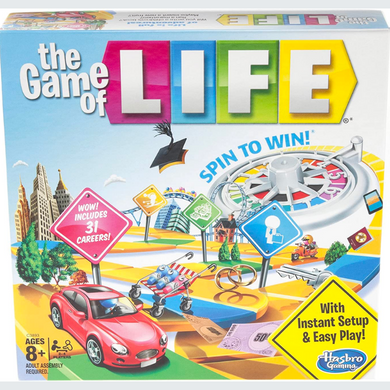 The Game of Life
Introduced: 1860 (First version), 1960 (Modern version)
Objective
Do you remember playing this classic Hasbro board game as a child? You travel the winding path of Life making decisions, building a family, earning money (and losing some too), buying homes, and collecting Life tiles. You're playing for wealth and fortune and at the end of the game, the person with the most money wins.
Why Is It So Popular?
Offers players many choices – marriage, having kids, buying insurance, and houses.
The gameplay is about an hour, which is perfect for evenings with children.
Establishes a basic understanding of financial concepts, such as debt and insurance.
Provides an opportunity to teach kids to think about the big picture when making decisions.
And yes, the modern version does teach social appropriateness as it rewards good moral choices, too.
The first version was called the "Checked Game of Life" and was played on a checkerboard.
It is the first popular board game in the United States. 45,000 copies were sold in 1860.
It has sold more than 50 million copies since its introduction.
Before 1992, the gameplay was focused on making more money. Now, the focus is on having good morals and making good decisions in life.
In the first version of the game, there was a suicide option. Really???


Trouble
Introduced: 1965
Objective
Who can forget the feel and sound of the "Pop-o-Matic" bubble bouncing the die and landing on your number? Trouble may be the newest game on our list but it has been entertaining families for over 50 years.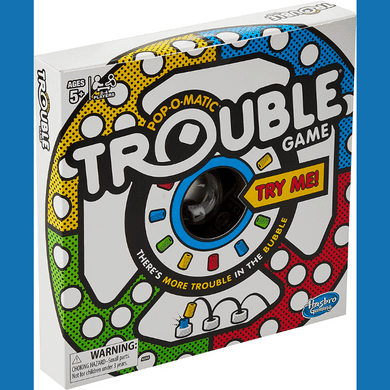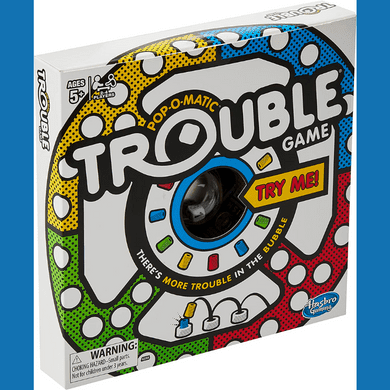 Your goal is to be the first player to move all four of your colored pegs around the game board and to your Finish line. During the game, try to send your opponents' pegs back home.
Why Is It So Popular?
The rules are simple and kids as young as 5 can play.
Possible to be played by one person as multiple players. Can be played alone.
Some children just like popping the bubbles and ignoring the game pieces.
The gameplay is fast, competitive, and exciting.
There are many versions of the game, such as Double Trouble.
Fun Facts
The gameplay, board, and concept are derivative of the Indian board game, Ludo.
A similar game called Headache was also produced by the Milton Bradley Company.
The die in the game is printed with numerals rather than dots.
The "Pop-o-Matic" container with the die prevents the die from being lost and prevents cheating.
The game is called Frustration in the UK and Kimble in Finland.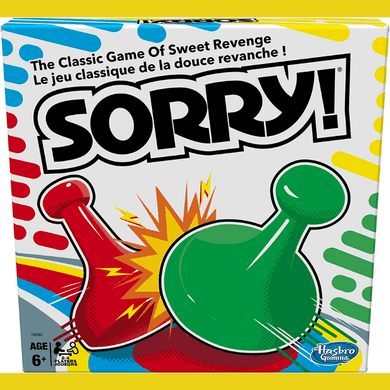 Sorry!
Introduced: 1929
Objective
Just like the Wizard of Oz, in the board game Sorry!, there's no place like home. The objective is to be the first player to get all four of your colored pawns from your start space to your home space.
Sorry! is a great game for helping children with counting. Each card's number shows kids how many spaces to move on the board.
Why Is It So Popular?
The game is simple for children to understand and can be played with children as young as 5.
The game is based on a mix of luck and strategy.
As you try to move forward, you're also trying to make other players move backward. Hence the name "Sorry!"
The "revenge" feature makes it fun to play with friends (although at least you can still say sorry to be polite).
The game is short and can be played in five to ten minutes.
Fun Facts
It is based on the ancient Cross and Circle game popular in India called "Parcheesi."
It was first released in England and called Waddingtons.
There is also a more complicated, adult version of Sorry! based more on skills than luck.
Parker Brothers released a travel version of Sorry! called "Sorry! Express" and an adult version called "Sorry! Not sorry!"
There are 45 cards but no 6s or 9s to avoid confusion


Candy Land
Introduced: 1949
Objective
Who doesn't remember CandyLand? Perhaps because you can play as young as 3 years old, and every kid born in the U.S. over the last 75 years has probably moved a gingerbread man around the board to collect sweets.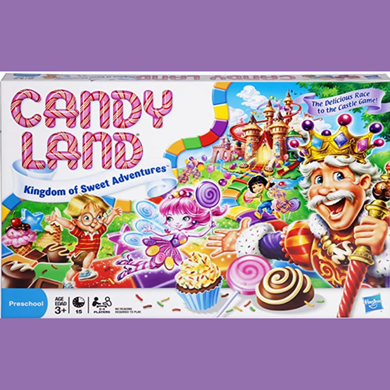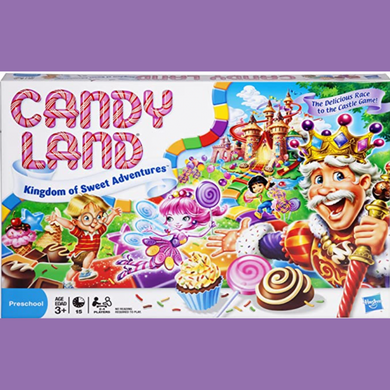 Board pieces travel along the path of colored spaces according to which colored squares or picture cards are drawn. The goal is first to find King Kandy, the Last King of Candy Land, in his castle.
Why Is It So Popular?
The rules are very simple and require no reading.
The game does not require any strategy.
The in-game characters Lord Licorice, Princess Lolly, and King Kandy all have unique storylines.
There are many versions of the game, including a travel version and a PC game version.
What child doesn't like sweets?
Fun Facts
There have been over 50 million games sold and still sell over a million games a year.
The game was invented by Eleanor Abbot to entertain kids in the polio ward.
During the time Candyland was introduced, many parents were afraid of the spread of polio. They were able to keep kids indoors because they were occupied with Candyland.
In all the boards made before 2010, there is a mistake where two characters hold their left hands, making an awkward posture.
There is an edible version of Candyland, with chocolate cards wrapped in paper.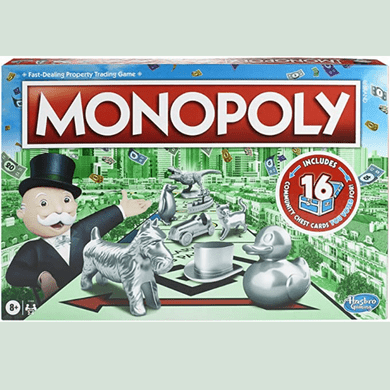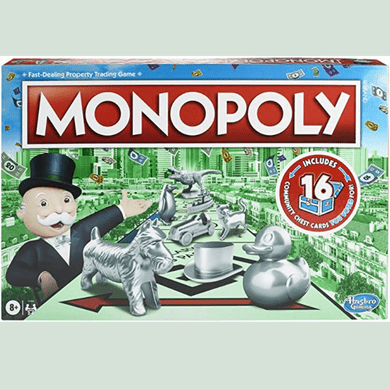 Monopoly
Introduced: 1935
Objective
It is no surprise that the game coming in #1 on our teacher-recommended list is Monopoly. Outselling every other game by far, Monopoly now comes in hundreds of versions and it's a true American classic.
The goal is simple and very American: Become the wealthiest player through buying, renting, and selling property and force other players into bankruptcy. (Is that a good thing?)
Why Is It So Popular?
There are many versions of the games from all over the world.
The game teaches financial basics, such as property acquisition and investments.
It provides flexible playing time (20~180 minutes) and flexible rules (you can make up your own).
There are random factors in the gameplay. (Chances cards)
It is possible to still win even if you're behind early in a game.
Fun Facts
The game has sold a whopping 275 million copies and has been played by billions.
The Monopoly man, Rich Uncle Pennybags, was inspired by J.P. Morgan, a powerful banker of the time.
The game pieces were inspired by the founder's niece and resemble her charm bracelet.
If you add up all the money in the Monopoly bank it's only $20,580.
The most expensive Monopoly game was designed by Sidney Mabell and is made of 23-karat gold, rubies, and diamonds, costing $2 million.
Learn More About Board Games
What is a family board game?
A family board game is a game that can be played with children usually from ages 5 through adult. The best board games are a mix of luck and strategy with simple rules. Most involve spinning wheels, rolling dice, or drawing cards. For most families, there is nothing like a family game night.
What are the most popular board games in the U.S.?
Most of the top-selling board games are classics. They include Monopoly, Scrabble, Clue, Trivial Pursuit, Candy Land, Life, and Pictionary.
What board games are recommended by teachers?
The Top 5 most recommended board games by teachers are Life, Trouble, Sorry!, Candy Land, and Monopoly.
What are some board games popular with young adults?
Among the games that have seen a rise in popularity over the last 20 years with young adults and teenagers are Codenames, Wavelength, Just One, Sequence, I Should Have Known That, Cranium, Phone Phever, and Disney Villainous.
Sources
https://www.ultraboardgames.com/monopoly/game-rules.php
https://www.gamesver.com/15-reasons-monopoly-is-the-best-game-ever-why-its-so-popular/
https://hbr.org/2002/03/everything-i-know-about-business-i-learned-from-monopoly
https://dustyoldthing.com/history-candy-land-game/
https://www.mentalfloss.com/article/589334/candy-land-game-facts
https://www.forbes.com/sites/goldiechan/2021/04/21/delicious-branding-lessons-from-family-fun-classic-candy-land/?sh=af13f4b52b23
https://www.smart-kid-educational-games.com/sorry-board-game.html
https://www.ultraboardgames.com/the-game-of-life/game-rules.php
https://kids.kiddle.co/Trouble_(board_game)
What Board game is the favorite for your family?