When we think summer at ThinkFives, we think family boardwalks, particularly if you live on the East or West coasts. Boardwalks and beaches have always been great vacation spots.
We checked with all our friends and developed these Top 5 lists of beach boardwalks that you would want to visit.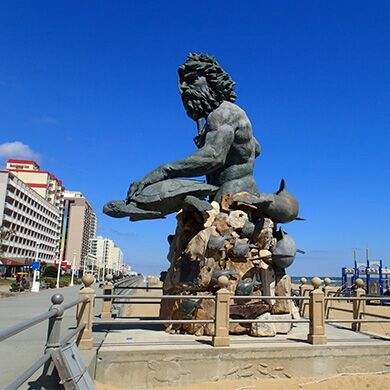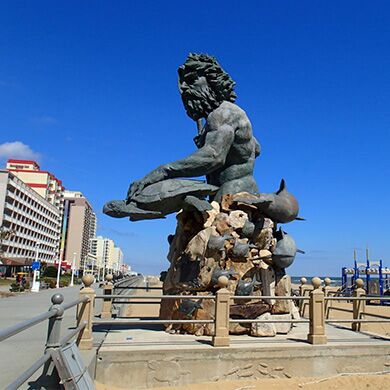 Virginia Beach Boardwalk, Virginia
At three miles in length, the Virginia Beach Boardwalk is a marvel that stretches from 2nd to 40th St. in Virginia Beach. It's a local favorite but brings in people from all over the East Coast.
From the Atlantic Wildfowl Museum to a classic fishing pier or a colossal 34-foot-high bronze statue of Neptune to the Atlantic Fun Park, there's something for everyone.
Don't miss the Midway Games for 16 family-fun and thrill-seeking rides like the Gravitron, Slingshot and Sea Dragon for your teenagers.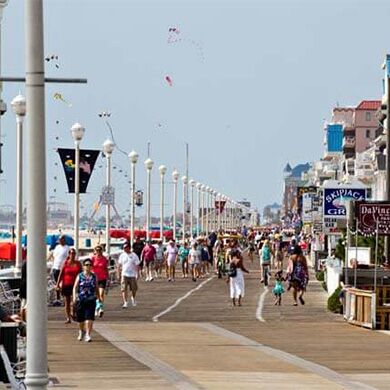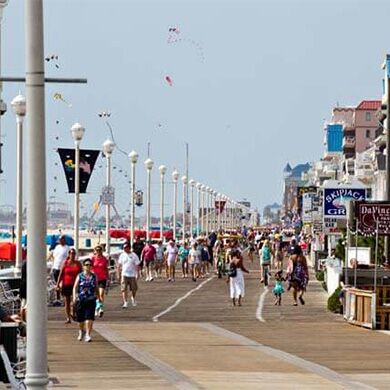 Ocean City Boardwalk, Maryland
Described as an iconic East Coast pedestrian thruway, the award-winning boardwalk is home to many hotels, restaurants and attractions befitting a world-class seaside resort.
Trimper's Amusement Area has rides for children of all ages including Trimper's Carousel which has been entertaining children since 1912. A ferris wheel, roller coasters and drop rides are all there as well — perfect for your teenagers. There's just so much to do. No wonder why it's considered one of the best boardwalks in America.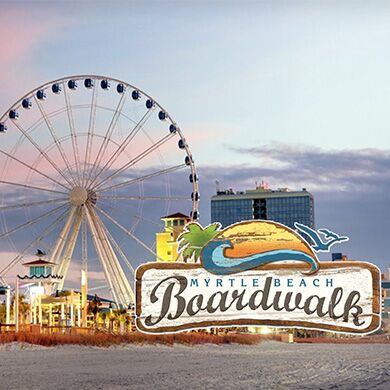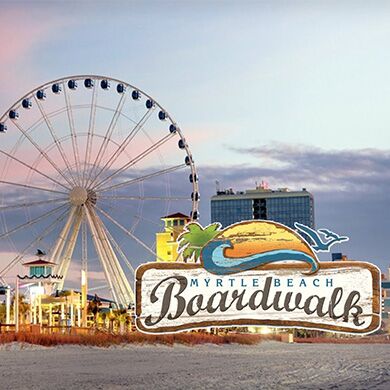 Myrtle Beach Boardwalk, South Carolina
This 1.2-mile-long ocean front promenade traverses the sand from 14th Avenue to 2nd Avenue in Myrtle Beach. It's home to festivals and events all summer and includes everything from the Myrtle Beach SkyWheel to restaurants, bars and hotels right on the boardwalk.
Hot summer nights are particularly festive with live music twice a week during the summer – not to mention the weekly fireworks, carnival style games, caricature drawings, balloon artists, Top Golf and more. What more would you need on a nice hot summer night?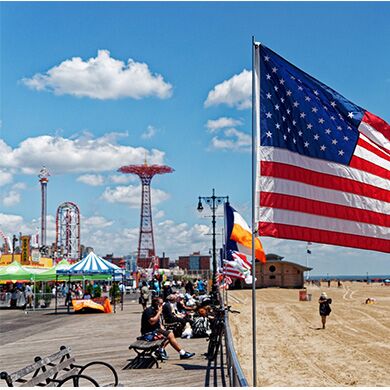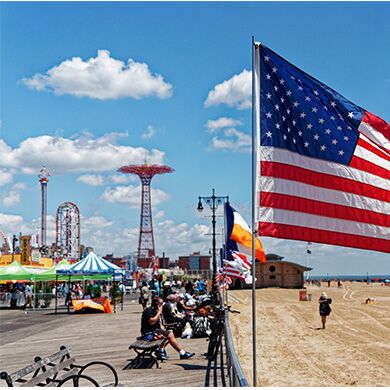 Coney Island Boardwalk, New York
This famous wooden boardwalk might be best known for its July 4th Hotdog Eating Contest every year. Having charmed America for well over a century, there's plenty to see on other days too, with rides, restaurants, attractions and a great sandy beach.
What's there to do? Well, you can start with a hotdog and fries at Nathan's Famous. Then you can take a ride on one of the most recognized structures in New York, the Coney Island Wonder Wheel, a classic ferris wheel that celebrated its 100th anniversary last year.
To end the trip, there are the Luna Park rides and, of course, the most famous of all, the Coney Island Cyclone, the wooden roller coaster dating back to 1927. Hold on tight as it's almost 100 years old.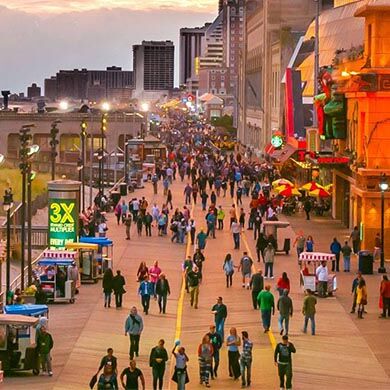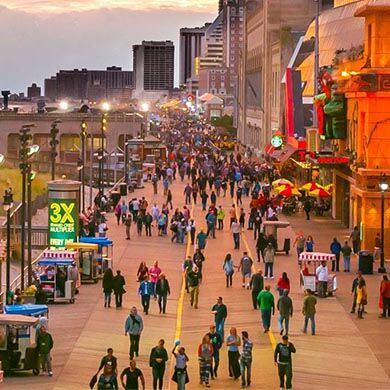 Atlantic City, New Jersey
Coming in #1 on our list of East Coast boardwalks is the boardwalk that defines the Jersey Shore, the Atlantic City Boardwalk. Known as the world's first and longest boardwalk, songs have been sung about it, books have been written and there's even been a TV show or two. It's also the birthplace of salt water taffy.
Maybe not the jewel it once was, the Atlantic City Boardwalk is still family-friendly including restaurants, miniature golf, escape rooms, and the Steel Pier, a 1000-foot-long amusepark connected to the boardwalk. Dedicated in 1870, it took over 100 years to add its most adult fun: gaming casinos.
So, stream some Bruce Springsteen and "put your makeup on, fix your hair up pretty and meet me tonight in Atlantic City."
Honorable Mentions
Wildwood Boardwalk – Wildwood, NJ
Rehoboth Beach Boardwalk – Rehoboth Beach, DE
Carolina Beach Boardwalk – Carolina Beach, N.C.
What's your favorite East Coast boardwalk?