What is SEL?
SEL stands for Social Emotional Learning and it has become an important program for teachers to help students grow into responsible adults.
A number of districts have implemented formal SEL programs in their schools while other schools are in the exploratory stage of selecting a program.
The concept, which was first created in the 1960s, has been used by the Collaborative of Social and Emotional Learning (CASEL) since 1994. CASEL defines SEL as the process of acquiring healthy identities, emotions, empathy and personal and collective goals.
Many programs recognize the 5 core SEL competencies
Self-Awareness.
Self-Management.
Social Awareness.
Relationship Skills.
Responsible Decision-Making.
Finding an SEL program that will work best in your community can be a challenging task. There are many choices and different pedagogical approaches to SEL. Some include professional development while others offer a curriculum, videos, or interactive games
ThinkFives researched SEL programs and instead of giving you a Top 5 list, we're going to provide you with 5 lists with 5 SEL programs created by 5 different experts in the field.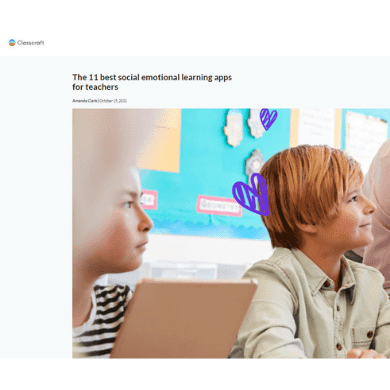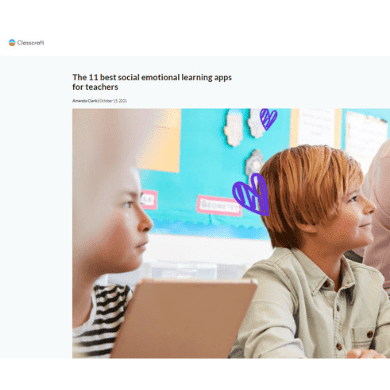 Classcraft Top 5 SEL Programs
Classcraft is an online and app-based fantasy-themed behavior and learning-management platform with a role-playing game (RPG) theme. They created a blog with the best social emotional learning apps for teachers from their research.
Breathe, Think, Do (Sesame Street)
Sesame Street's Breathe, Think, Do helps children recognize and control their emotions.
This SEL app features a friendly (and furry) blue monster who interacts with kids at their level. If the monster experiences anger, the child chooses a positive action, such as writing about feelings. The monster will then react positively, high-fiving them when they complete their task.
This storybook app teaches children to think with empathy, kindness and respect. It shows them how our feelings can lead us astray and reminds them that kindness helps us feel better about ourselves and can have a positive impact on those around us.
My Peekaville
My Peekaville is an educational SEL app for ages 4+. Using SEL-focused stories, lessons and activities, this app uses the CASEL approach to help young students learn empathy, self-awareness and self-regulation.
My Peekaville, which is presented as both a video game and interactive storybook, provides a magical world where people and animals (aka Peekapak Pals) solve problems and live together in harmony.
Class Dojo
Class Dojo is an SEL app that allows parents, teachers, and students to track academic and behavioral progress.
The premise is simple: Award your student/child points for accomplishments by tapping the award button. Class Dojo also offers an accessible platform for teachers to communicate with parents by adding documents and messaging or even posting to a class newsfeed.
Social Express
Ever feel like you're not good at reading people? The SEL app, Social Express, has you covered! Social Express teaches children and teenagers how to perceive emotions and handle social situations through interactive animated videos. (We highly recommend checking out the Attention Arcade and Teen Career Path on the app's website.)
Social Express also teaches social skills and prepares kids emotionally for the future through reading, audio, games, and animation.
Smiling Mind
This not-for-profit Australian app beefs up SEL skills through meditation and mindfulness activities. Smiling Mind's activities focus on gratitude, deep breathing and finding inner peace in challenging moments.
The Smiling Mind app pairs well with its website, offering teachers professional development, mindfulness curricula and student journals.
See their full list at https://www.classcraft.com/resources/blog/the-5-best-social-emotional-learning-apps-for-teachers/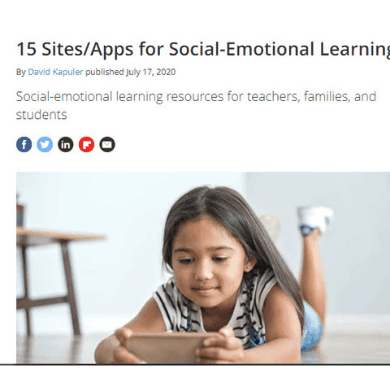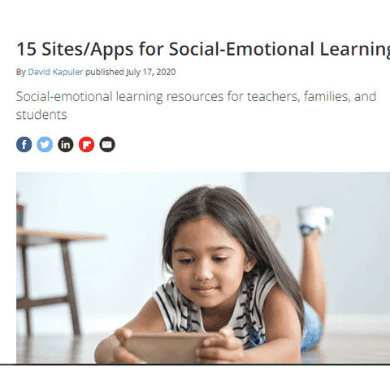 Classcraft – An innovative game-based learning approach to teaching that helps increase social-emotional learning through collaboration and group dynamics.
Kickboard for Schools – Offers an abundance of resources for social-emotional learning and tips on how to integrate skills and core competencies into the classroom.
Middle School Confidential – A collection of apps and books designed to help middle school children develop social-emotional learning skills.
Peekapak – A social-emotional learning curriculum for PreK-5, including a portal that allows teachers to track and monitor students.
QuaverSEL – Helps decrease classroom challenges, reinforce safety initiatives, improve attendance, and more.
See their full list at https://www.techlearning.com/how-to/15-sitesapps-for-social-emotional-learning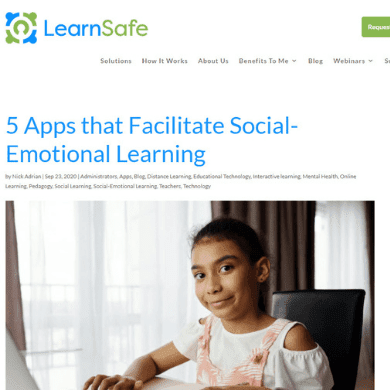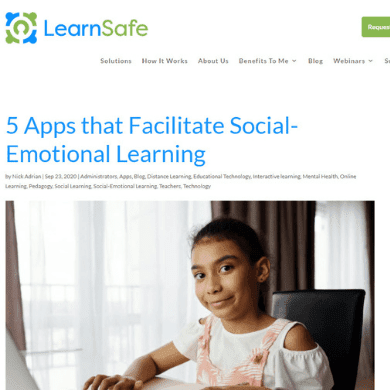 LearnSafe's 5 Apps that Facilitate SEL
LearnSafe, security software for schools that monitors bullying, sexual predators and other inappropriate use of computers, shared this list by Nick Adrian on their site.
Positive Penguins
This interactive app helps children understand why they experience any number of emotions. Through the use of games featuring lovable penguin characters, Positive Penguins gives children an opportunity to cope with and overcome what they're going through.
Smiling Mind
Smiling Mind is an Australian-based app that helps users of all ages take breaks during stressful days to improve their mental health. The in-app activities serve as a form of meditation. This helps students who have a hard time staying focused have a short cool down during the day.
Middle School Confidential
There are three different Middle School Confidential apps. These correspond to three books written by teen expert and anti-bullying activist Anne Fox, M.Ed. This interactive comic book follows middle school kids as they deal with low self-confidence, bullying, and physical changes. It's a fun, entertaining app perfect for any child dealing with the same issues.
The Social Express
The Social Express is an educational app designed to teach students how to handle emotional and social problems. Through interactive videos, the user picks a character and helps them decide what to do in different situations. This will help students make moral decisions in the game and in real life.
Classcraft
This app helps boost student confidence in the form of games. Classcraft teaches cooperation, communication, and other social skills. The app is perfect for classrooms because it is a great way to get everyone participating. Plus, they offer webinars and professional development activities designed to help educators meet the challenge of teaching during the pandemic.
See the full blog at https://learnsafe.com/5-apps-that-facilitate-social-emotional-learning/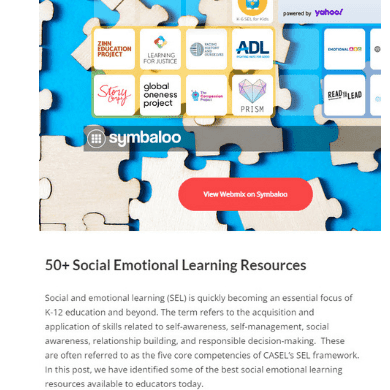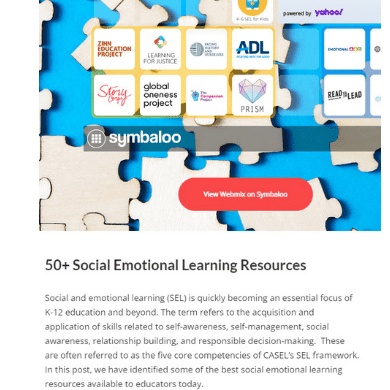 Symbaloo Top 5 SEL Programs.
Symbaloo, a leading provider for teachers, schools and districts who seek to organize their online content, created this list of comprehensive SEL programs – programs built to deliver across all five SEL competencies. Many offer full curriculums and tracking tools for educators.
Kickboard
Kickboard offers software and professional services to implement research-based practices like SEL, PBIS, RTI, and MTSS. The app includes many features to track behavior, analyze results, and create a positive school culture.
Peekapak
Peekapak features a series of ELA-aligned learning games, e-books, and social emotional learning curriculum. It includes lesson plans per grade level and social emotional learning activities to reinforce crucial skills.
Harmony SEL
Harmony is a no-cost social emotional learning program for Pre-K through 6th grade students. It offers classroom activities, SEL stories, games, and songs designed to improve communication, connection, and community.
BASE Education
BASE Education is a CASEL-approved SEL platform that was built by educators and mental health professionals. The evidence-based curriculum encourages meaningful dialogue and social emotional growth among students.
Thrively
Thrively features a strengths assessment and skill development lessons for students. Their ready-to-use SEL curriculum includes a lesson library to address self-awareness, student agency, and other SEL competencies.
Read their full blog at https://en.blog.symbaloo.com/social-emotional-learning-resources.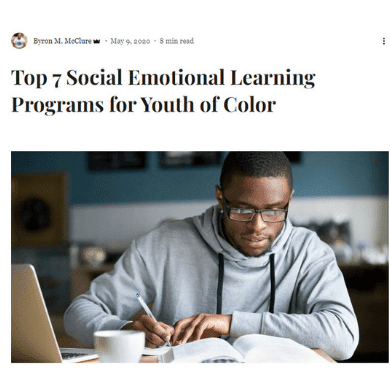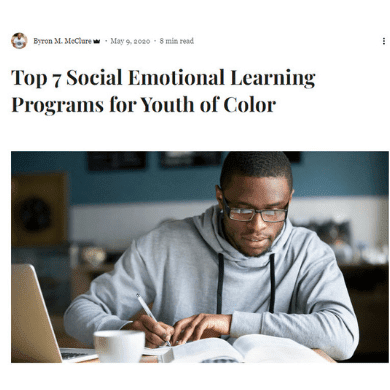 Top Social Emotional Learning Programs for Youth of Color
Byron M. McClure at Lessons for SEL shared the following list focusing specifically on programs for students of color.
Too Good For Violence
Too Good For Violence (TGFV) is a comprehensive prevention program developed by the Mendez Foundation, a non-profit organization. TGFV is for students in K-12 and is designed to mitigate risk factors and build protective factors within the student.
The program is designed to reduce violent and aggressive behaviors while increasing social and emotional skills. In order to accomplish this, TGFV focuses on developing essential skills such as conflict resolution, anger management, respect for self and others, and effective communication.
In one study, TGFV was evaluated and showed promising results for students of color. Students of color made up the majority of the sample in the study (12.5% African-American, 36% Hispanic, 5% multiracial, and 2% Asian). Additionally, 54% of the students received free or reduced lunch.
PATHS
The Promoting Alternative Thinking Strategies (PATHS) program promotes peaceful conflict resolution, emotion regulation, empathy, and responsible decision-making." This program is for students in pre- kindergarten through sixth grade and is designed to prevent or reduce problem behavior and improve social emotional competence.
This program was shown to improve academic behaviors, climate, as well as social and emotional attitudes/ skills. The PATHS program provides broad opportunities (40-52 lessons per year per grade level) to practice SEL related skills, across both school and family settings.
The PATHS program offers empirical support for use with minority students from high- poverty communities across multiple studies.
I Can Problem Solve
The I Can Problem Solve SEL curriculum is a universal prevention program, intended for use with students in pre-kindergarten through fifth grade and focuses on children's cognitive processes and problem-solving skills rather than on specific behaviors.
Lessons are approximately 20 minutes and teach students explicit SEL skills such as developing self-awareness, making responsible decisions, and controlling emotions. The targeted outcomes of this program include improvements in pro-social behavior, reduced conduct problems, and reduced emotional distress. Additional evaluation outcomes of this program include improved social and emotional skill performance.
4Rs Program Description (Reading, Writing, Respect, and Resolution)
The 4Rs SEL curriculum is a program that provides sequential, interactive lessons to support and develop SEL skills. This program teaches students how to understand and manage feelings, develop empathy, how to be assertive, and how to solve conflict peacefully.
The program covers pre-kindergarten through eighth grade, has on average 35 sessions per academic school year, and is designed to build upon academic skills. The 4Rs program targets social and emotional skill performance. The 4Rs program provides extensive opportunities to practice social and emotional skills, and for use within the classroom, school- wide and family setting.
The 4Rs program has provided promising findings for use with minority students from high poverty communities. Students in the study were majority African-American and Latino children and showed improvements in test scores, increases in favorable behavior, and a reduction in reported problem behaviors.
Student Success Skills
The Student Success Skills (SSS) program is an intervention that has also shown emerging support for use with minority students from high-poverty communities. The SSS intervention uses teaching strategies to support social emotional growth and is designed to be implemented within the classroom setting.
Teachers deliver five lessons, which provide strategies for setting goals, monitoring growth, building a positive and supportive learning environment, developing cognitive skills, regulating emotions, and building resiliency.
The program was evaluated with seventh grade students who were predominantly Hispanic (66%) and more than 80% of the students received free or reduced lunch. Students who participated in the program improved academic performance when compared to students in the control group.
Read their full blog at https://www.lessonsforsel.com/post/top-7-social-emotional-learning-programs-for-youth-of-color

What SEL program do you use in your school and is it effective?