If you grew up on the east or west coast – or had a chance to visit during the summer – one of your best childhood memories might be a summer excursion to the "shore" and a promenade down a classic walkway of wood.
The sounds and smells are iconic – salt water taffy, corn dogs, funnel cakes, and the clickity clack of an old wooden roller coaster.
Boardwalks also capture the unique flavor of the local area. Nathan's hot dogs on Coney Island, crab cakes in Virginia, or fish tacos in Santa Monica.
ThinkFives surveyed our friends on the coasts and we developed our Top 5 List of East and West Coast Boardwalks. So, pack the car and head to the shore!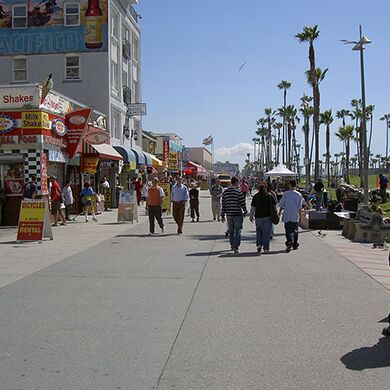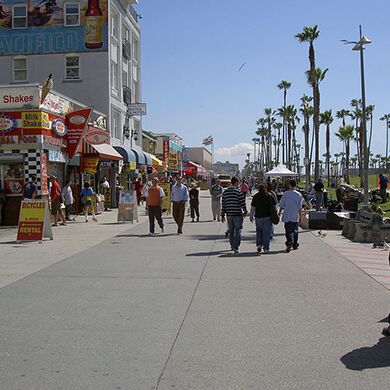 Venice Beach Boardwalk, Venice, California
The Venice Beach Boardwalk is a one-mile street market and free-speech zone on Venice Beach. It's one of the top things to do in Los Angeles and it's filled with public art, souvenir shops, street performers and, of course, people watching.
Uniquely Californian, you'll find the Venice Art Walls which continue a tradition of free speech, with artists taking turns painting the walls. There's also the outdoor Muscle Beach Gym known for its renowned bodybuilders, including Arnold Schwarzenegger and the original Hulk, Lou Ferrigno.
And it wouldn't be California if it didn't have an outdoor skate park, beach volleyball courts, surfboard rentals, and long stretches of bike path. So hey dude, it's time to check out the Venice Boardwalk.


Atlantic City, New Jersey
Coming in #4 on our list of family boardwalks is the one that defines the Jersey Shore, the Atlantic City Boardwalk. Known as the world's first and longest boardwalk, songs have been sung about it, books have been written about it and there's even been a TV show or two. It's also the birthplace of salt water taffy.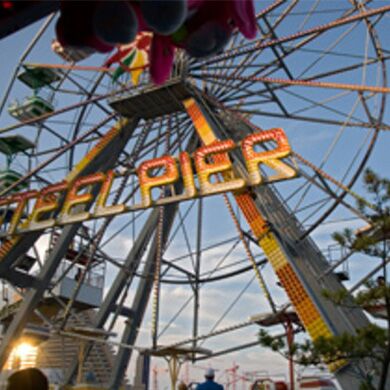 Maybe not the jewel it once was, the Atlantic City Boardwalk is still family-friendly including restaurants, miniature golf, escape rooms, and the Steel Pier, a 1000-foot-long amusepark connected to the boardwalk. Dedicated in 1870, it took over 100 years to add its most adult fun: gaming casinos.
So, stream some Bruce Springsteen "put your makeup on, fix your hair up pretty, and meet me tonight in Atlantic City."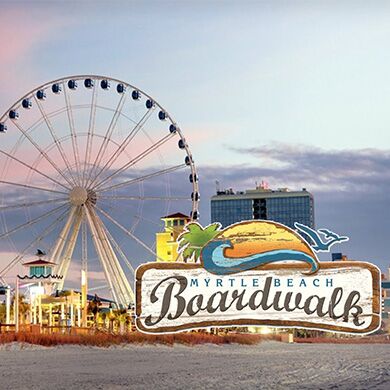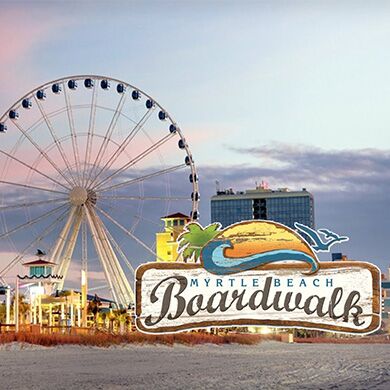 Myrtle Beach Boardwalk, South Carolina
This 1.2-mile-long ocean front promenade traverses the sand from 14th Avenue to 2nd Avenue in Myrtle Beach. It's home to festivals and events all summer and includes everything from the Myrtle Beach SkyWheel to restaurants, bars and hotels right on the boardwalk.
Hot summer nights are particularly festive with live music twice a week during the summer – not to mention the weekly fireworks, carnival style games, caricature drawings, balloon artists, Top Golf and more. What more would you need on a hot summer night?


Coney Island Boardwalk, New York
This famous wooden boardwalk might be best known for its annual July 4th Hotdog Eating Contest. Having charmed America for well over a century, there's plenty to see on other days too, with rides, restaurants, attractions, and a great sandy beach.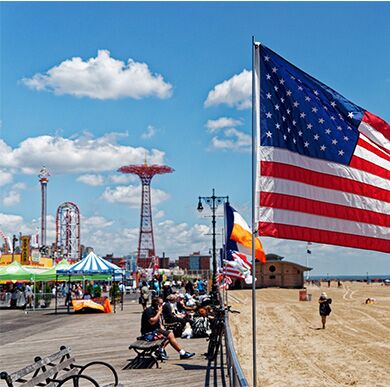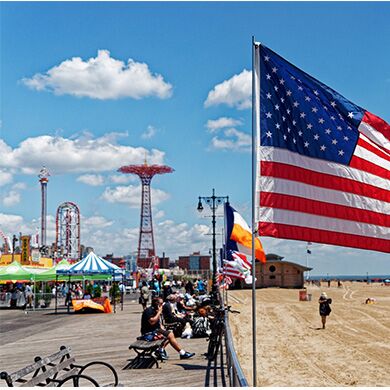 What's there to do? Well, you can start with a hotdog and fries at Nathan's Famous. Then you can take a ride on one of the most recognized structures in New York, the Coney Island Wonder Wheel, a classic ferris wheel that celebrated its 100th anniversary last year.
To end the trip, there are the Luna Park rides and, of course, the most famous of all, the Coney Island Cyclone, the wooden roller coaster dating back to 1927. Hold on tight as it's almost 100 years old.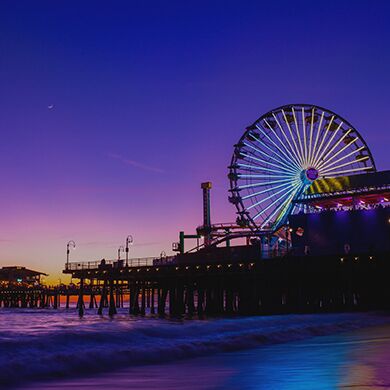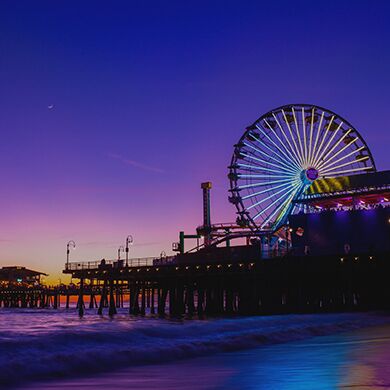 Santa Monica Pier, Santa Monica, California
Topping our list of boardwalks is the Santa Monica Pier. Yahoo Travel named the family-friendly park as California's best amusement park.
The only West Coast amusement park located on a pier, it has all you could ask for. An exhilarating roller coaster that towers 55 feet above the Pacific Ocean? Check. Midway games? Check. Children's amusement rides, and trapeze classes on the beach? Check and check!
Thanks to LA's great weather, the park is open year-round, so you can enjoy games, restaurants, concerts and more whenever you're in the area.
Honorable Mentions
It was so difficult to narrow down our choices for the Top 5 that as a bonus we created this honorable mention Top 5. If you're vacationing along the mid-Atlantic coast, out west or even on the shores of the Windy City, there are sunny days of fun for you, too.


Virginia Beach Boardwalk, Virginia
At three miles in length, the Virginia Beach Boardwalk is a marvel that stretches from 2nd to 40th St. in Virginia Beach. It's a local favorite but brings in people from all over the East Coast.
From the Atlantic Wildfowl Museum to a classic fishing pier or a colossal 34-foot-high bronze statue of Neptune to the Atlantic Fun Park, there's something for everyone.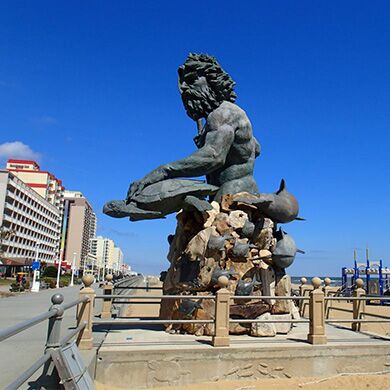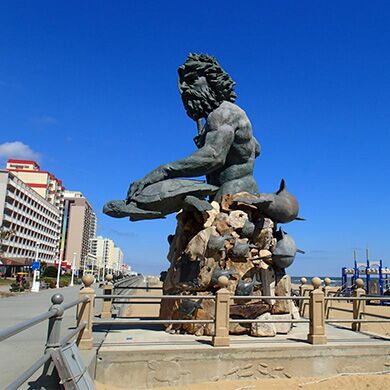 Don't miss the Midway Games for 16 family-fun and thrill-seeking rides like the Gravitron, Slingshot, and Sea Dragon for your teenagers.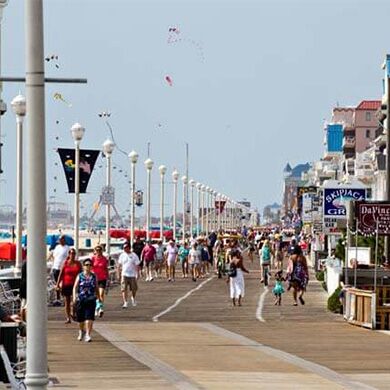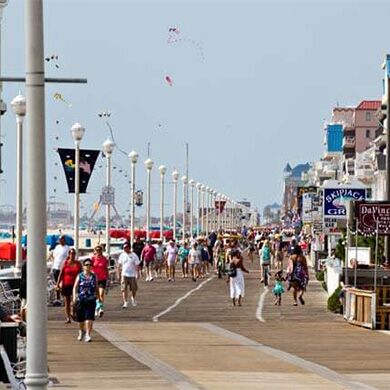 Ocean City Boardwalk, Maryland
Described as an iconic East Coast pedestrian thruway, the award-winning boardwalk is home to many hotels, restaurants, and attractions befitting a world-class seaside resort.
Trimper's Amusement Area has rides for children of all ages including Trimper's Carousel which has been entertaining children since 1912. A ferris wheel, roller coasters, and drop rides are all there as well — perfect for your teenagers. There's just so much to do. No wonder why it's considered one of the best boardwalks in America.


Mission Beach Boardwalk, San Diego, California
San Diego's beachfront park epitomizes the vibe of "America's Greatest City," from its great ocean views to plenty of room for pedestrians and bikers. There's a family fun amusement park and an array of local restaurants featuring great California foods and, of course, the famous San Diego fish tacos.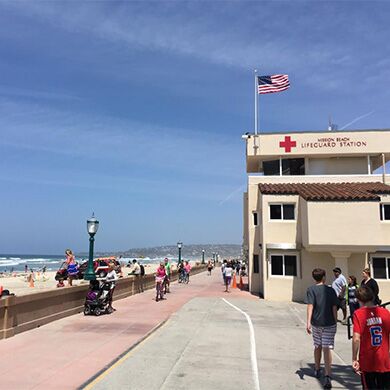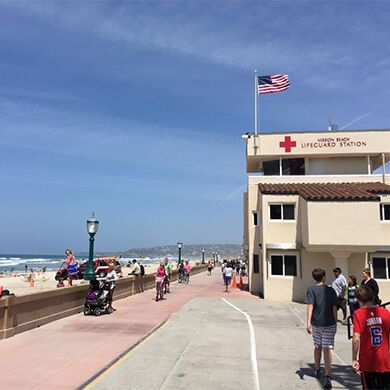 The paved boardwalk allows for rollerblading and leisurely bike riding. Walkways have the Southern California vibe with boutique shops, outdoor eateries, and street performers. And unlike East Coast boardwalks, you get that San Diego weather 365 days a year.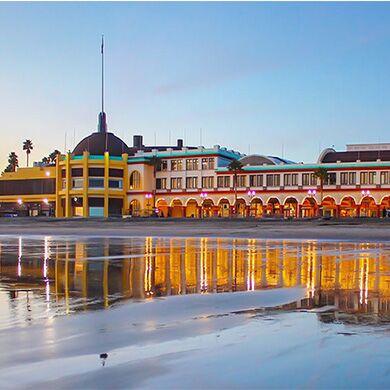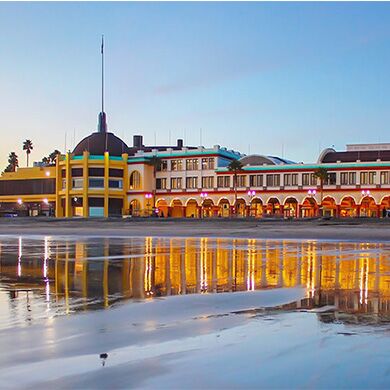 Santa Cruz Boardwalk, Santa Cruz, California
Coming in #4 is yet another California boardwalk, the Santa Cruz Boardwalk. Founded in 1907, it's California's oldest surviving amusement park and has great family fun for people of all ages.
.
The wide beach and splash of waves from the Pacific are almost inviting — if it weren't for the chill of NorCal water. It's home to a number of attractions including the Giant Dipper, a large wooden roller coaster that first opened up in 1924. It's been generating screams and thrills for decades.
Nowadays, the Boardwalk is filled with lots of other rides, from a 125-foot drop ride to the 1911 Looff Carousel for youngsters to a huge arcade with mini-golf, laser tag, and skee-ball.
And before you leave — but maybe after riding the Giant Dipper — make sure you check out the funnel cakes, corn dogs and the booth where they fry everything from Oreos to Reese's Peanut Butter Cups.


Navy Pier, Chicago, Illinois
Although far from either coast, we needed to stretch our geographic definition to include Navy Pier. It's one of the most-visited attractions in the entire Midwest and is Chicago's second most-visited tourist attraction.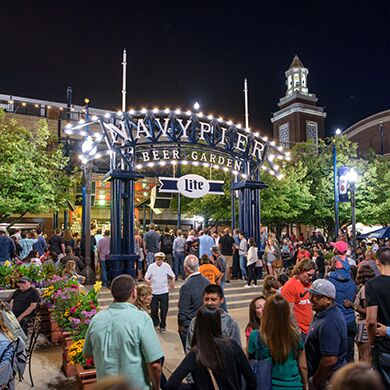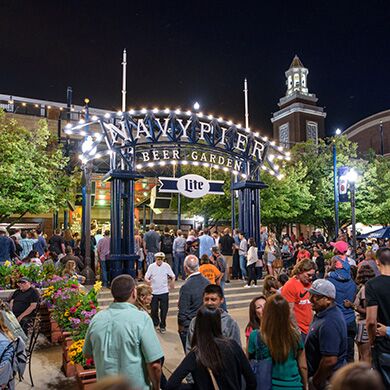 Stretching into Lake Michigan, this year-round destination truly comes to life in the summer with fireworks, live music, theater, and cruises setting sail daily. It's also home to the Centennial Wheel and Pier Park, with rides for children of all ages.
Harkening back to the 1893 World's Fair, this mecca of attractions will impress with beer gardens to restaurants to a 4000 sq ft. Funhouse Maze. You can grab a Chicago-style hot dog, a deep dish pizza slice or just a frothy beverage. If you're in Chicago and the weather is nice, head down to Navy Pier.
What's your favorite East or West Coast boardwalk?