You may know some quirky people, but what is a quirky city? How about a city that has qualities that are unique to it and that set them apart from others.
Take San Francisco for example. "Once you've been here long enough, nothing surprises you," says a hospitality exec. "Whether it's a naked person walking down the street, someone dressed in full drag, or 'Burning Man' types, no one really raises an eyebrow. Being a freak here is so normal."
But believe it or not, San Francisco comes in just outside our Top 5 at #6. Travel + Leisure magazine polled its readers and there are five cities in the nation that have more weird people than the City by the Bay.
"In this year's America's Favorite Cities survey—in which readers ranked 38 cities for features such as, thrift shops, and, indeed, quirky locals—the results show how a city can be nicely shaped by its kookiest denizens."
ThinkFives shares Travel + Leisure magazine's Top 5 and adds our comments.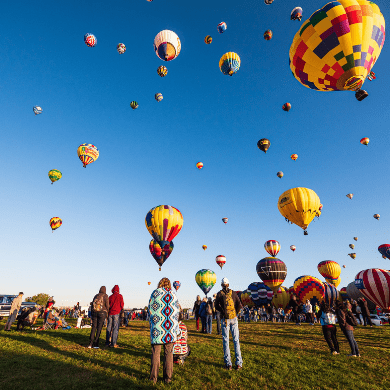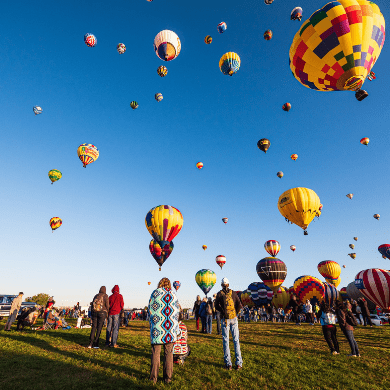 Albuquerque
The Basics
New Mexico's largest city
Has a modern downtown core that contrasts with Old Town Albuquerque
Population is over 500,000
According to Travel + Leisure:
"The New Mexico city made the top five for its unique, piñon-accented coffee—which tastes great with a faux-meth-sprinkled Blue Sky donut at Rebel Donuts. Indeed, the sometimes-dubbed Albuquirky has embraced its links to the TV series Breaking Bad: you can explore Walter White's version of the city in ABQ Trolleys Bad Tour . Otherwise, you could stay at the Hotel Park Central, a former psychiatric hospital that now has the rooftop Apothecary Lounge, with pre-Prohibition cocktails and a full selection of interesting bitters, like blood orange, celery, and Aztec chocolate. The city also ranked in the top 10 for being both adventurous and affordable."
ThinkFives Favorites
Great southwest architecture with adobe buildings
Indian Pueblo Cultural Center
The Albuquerque International Balloon Fiesta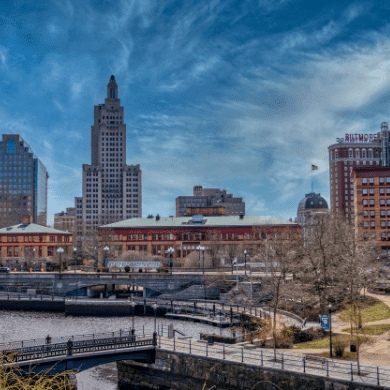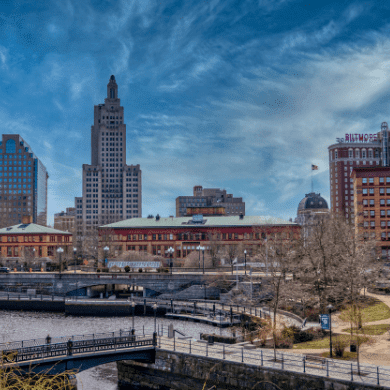 Providence
The Basics
Capital city of Rhode Island
Home to Brown University and the Rhode Island School of Design
Pollution is 180,000
According to Travel + Leisure:
"Founded by the tolerance-advocating Roger Williams, the Rhode Island city has long cultivated iconoclasts. Indeed, you'll find more than a mere symphony and theater scene here: you can experience the all-puppet Big Nazo Theater, where you can get hands-on with the alienesque creatures or the Extraordinary Rendition Band, a local marching band featuring sousaphones, accordions, and washboards.
The city ranked highly for both its burgers and its sandwiches, but its only-in-Providence hot dogs also distinguish themselves at Oneyville New York System, (which does not presume similarity with New York dogs), the savvy order is "three all the way with coffee milk," which comes with everything (meat sauce, mustard, and chopped onion) and a glass of the odd but wholesome state drink. Say what you want, but the locals did not rank as being dumb, either."
ThinkFives Favorites
College hills, quaint 19th century homes
The "Full Waterfire" art installation which lights up the tidal basin
A trip out to the Fantastic Umbrella Factory in Charlestown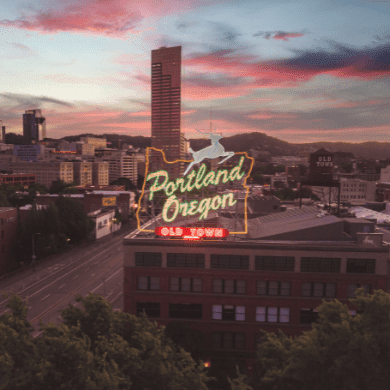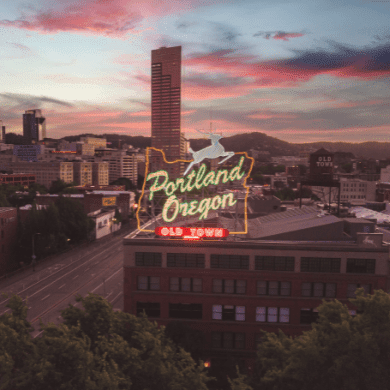 Portland
The Basics
Oregon's largest city
In the shadow of snow-capped Mount Hood
Pollution is 645,000
According to Travel + Leisure:
"The legendary community of hipsters ranked at the top of this year's survey for being pedestrian-friendly—and perhaps, by association, unicycle-friendly, too. The independently minded locals are known for their passion for sourcing: the MadeHere PDX store boasts all local (and often kind of bizarre) products, like mustache wax or a wood-and-leather six-pack holder for cyclists.
Readers also awarded Portland the top spots for its tasting-room coffee and craft beer but the City of Roses even offers a tasting-room experience with salt. At Jacobsen Salt, you can sample, say, the Smoked Cherrywood or Stumptown Coffee Flake salts. Unicycling is clearly good for your core: the locals also ranked No. 3 for being buff."
ThinkFives Favorites
A browse through the famous Powell's City of Books
Voodoo Doughnut, a 24-hour landmark of doughnut craziness
Hike to the "Witch's Castle"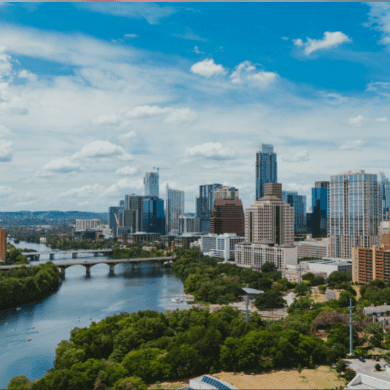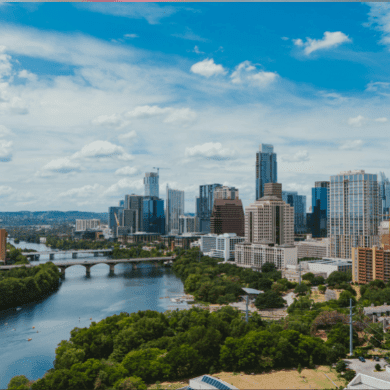 Austin
The Basics
State capital of Texas
Home to the University of Texas' flagship campus
Population is 950,000
According toTravel + Leisure:
"The 1991 film Slacker—by Boyhood's Richard Linklater—featured aimless intellectuals wandering the Texas capital, and you can still find a lot of those same folks (perhaps literally the same folks) populating the bars, food-truck pods, and parks of Austin today. The newest incarnation of the Keep Austin Weird motto is the recently opened Sfanthor's Chamber of Horrors on South Congress—a wax museum celebrating the greatest in the sci-fi, fantasy, and horror genres (hence, "Sfanthor").
To experience some of the weirdest of Austin's highly ranked bars, order a Shiner beer at longtime standouts like the always-decorated-for-Christmas, Lala's Little Nugget or Little Longhorn Saloon (home of the weekly "Chicken-S— Bingo")—or the newer entries, like Javelina on Rainey, which hosts live armadillo races."
ThinkFives Favorites
The bats at Congress Avenue Bridge.
Restaurant hopping for the best Tex-Mex
A night out for great local music on Sixth Street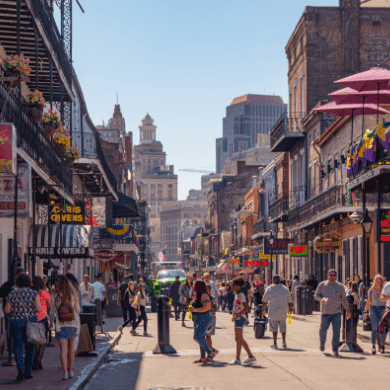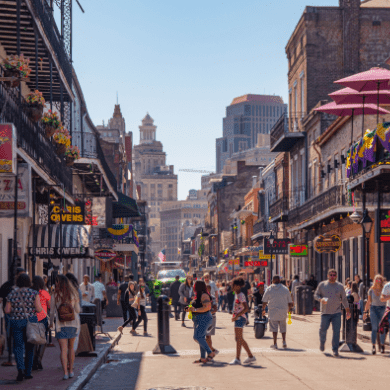 New Orleans
The Basics
Louisiana's largest city, sits on the Mississippi River
Known for its annual Mardi Gras celebration
Pollution is 390,000
According to Travel + Leisure:
"The city known for its jubilant funerals, voodoo shops, and seemingly nonstop festivals—from the roller-derby-based San Fermin Festival to the Oak Street Po' Boy Festival—was a shoo-in to win the quirky category. Indeed, the offbeat culture is so dominant that it's become mainstream: even the spa at the Ritz Carlton offers a VooDoo Spa complete with chants and scents of absinthe.
To experience the city in a quirky but convivial way, try one of the NOLA Social Rides —like the organized bike ride starting at Congo Square, with stops to hear live music. New Orleans also made the top five for two things that make travelers giddy: romance and free attractions."
ThinkFives Favorites
A 24-hour romp through the French Quarter
A late-night beignet stop at Cafe du Monde
Chicken gumbo, shrimp etouffee, jambalaya, bananas foster…
Honorable mentions:
San Francisco
Baltimore
Kansas City
Seattle
New York City
What is your favorite quirky city?