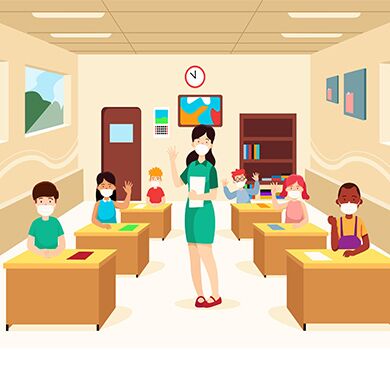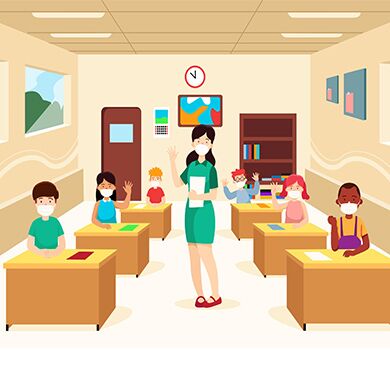 And the Survey Says:
What do teachers think about the learning gap?
According to the ESGI-ThinkFives survey, teachers say that the learning gap is real and you are concerned. 95% of all teachers believe the gap is an issue and over 75% of them believe it may take up to a year or more to close it.
This is undoubtedly concerning for both teachers and parents and this is yet another unfortunate lasting side effect of COVID-19. Despite your Herculean efforts to teach remotely, many of you are the first to say that students will be less prepared when they return to school this August.
Here are the Top 5 answers teachers share about the gap:


Progressing Ahead (0%)
We asked how many teachers if they thought a learning gap did not exist and that their students had progressed ahead of normal expectations. The answer was deafening. 0% of the surveyed teachers believed this to be true. Take it from teachers; this is a real issue.


No Noticeable Gap (5%)
Similarly, surveyed teachers had very little support for the statement that there would be no noticeable gap. Only 5% of the teachers expect to see no noticeable gap when students return to classes. The overwhelming majority of teachers are expecting a gap and that is certainly a cause for concern.
A related concern shared by teachers is the disparity in readiness that they are also expecting. Particularly in the early grades, teachers will need to deal with students where remote learning was supported by additional review at home and possibly even tutors. Some classmates may have had a more difficult home environment without that support. This will challenge teachers in grouping and focusing on those students with the greatest needs.


A Small Gap (19%)
19% of the surveyed teachers believed the gap could be small and that they may be able to close it quickly. This may particularly be true of classes in school districts which were able to have significant in-class learning in '20-'21 with the least disruption.


A Noticeable Gap (50%)
Half of all surveyed teachers believed the gap would be noticeable and their hope was to be able to close it by the end of the year. Certainly, all of us in education wish that to be true. Working together with leadership and parents, as well as getting additional resources and support from districts, the goal is to close the gap by the time students reach a new grade level.


A Significant Gap (26%)
A quarter of those surveyed believed that the gap is significant and may not be closed even in one year. They are concerned about the lasting effects on students who may have had almost a year of limited or no instruction. This reality should alarm school leadership and persuade them to secure as many resources for the teachers as possible.
We appreciate the honesty of the teachers surveyed and ThinkFives will do our best to highlight best practices and the available resources that could help teachers meet these challenges.
---
Source: ESGI-ThinkFives Survey
What do you think? What are you expecting this fall? Comment below.